Finding the right partner for physician staffing
Learn how UPMC (one of the country's largest healthcare systems) revolutionized its physician staffing process.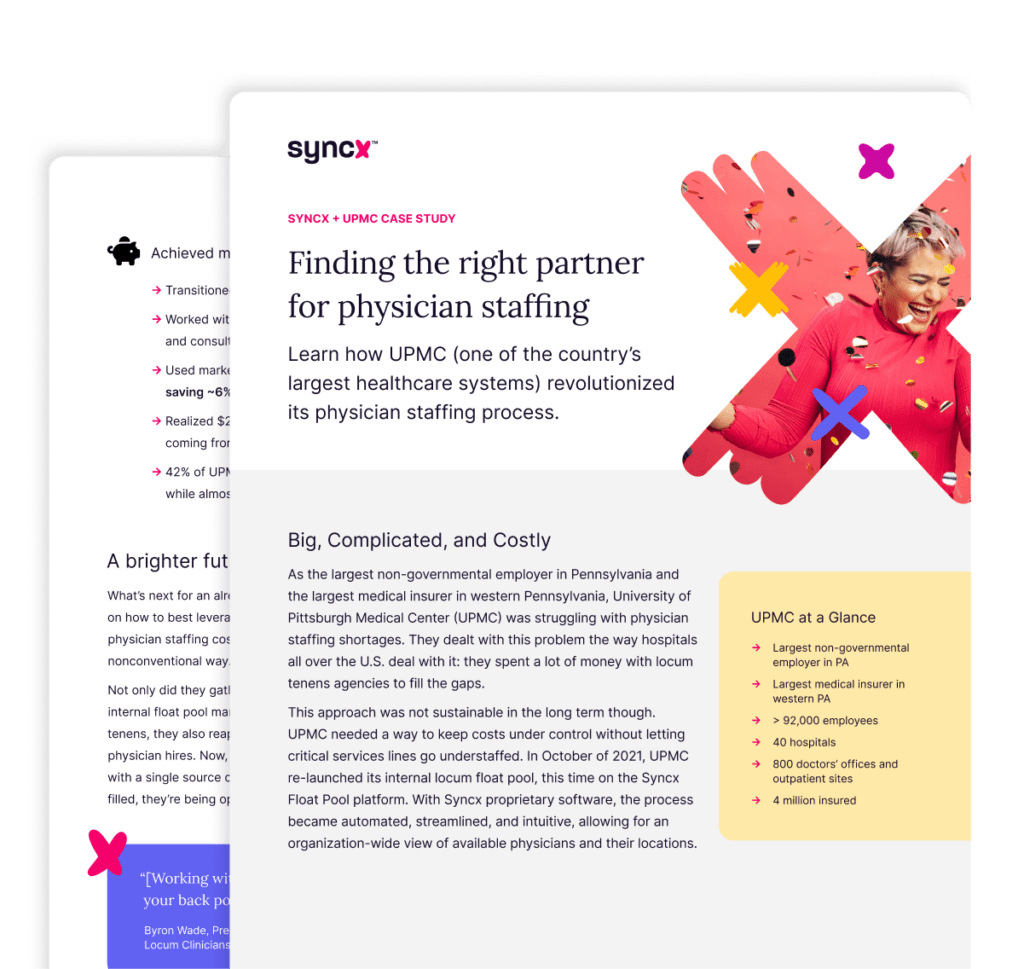 Big, complicated, and costly.
As the largest non-governmental employer in Pennsylvania and the largest medical insurer in western Pennsylvania, University of Pittsburgh Medical Center (UPMC) was struggling with physician staffing shortages. They dealt with this problem the way hospitals all over the U.S. deal with it: they spent a lot of money with locum tenens agencies to fill the gaps. This approach was not sustainable in the long term though. UPMC needed a way to keep costs under control without letting critical services lines go understaffed.
This can't live on a whiteboard.
In 2018, UPMC launched an internal locum program to identify and deploy internal physicians to fill staffing gaps, rather than rely solely on locum agencies. This program was a good start toward solving their staffing issues but the process turned out to be intensely manual, time consuming, and not scalable. One event in 2019 brought this challenge home to Byron Wade, UPMC's President of Locum Clinicians.
In an emergency at one of UPMC's hospitals, the neurosurgeon on call was unable to come in. Byron needed to track down a replacement, fast. All the information he needed to find an available locum was handwritten on a whiteboard in his office. The problem? Byron wasn't in his office.
"
[I realized] this is not gonna work for me…
everything's stored on my white board back in my office and I'm in Florida.
Byron Wade, President, Locum Clinicians, UPMC
Searching for the complete physician talent solution.
When UPMC began searching for staffing management partners, they wanted more than a standalone MSP/VMS solution for their locum tenens.
After thoroughly vetting several potential partners, it was clear that Syncx was the only partner to meet all of UPMC's criteria.
Large health system seeks a supportive staffing partner who:
You had me at hellosyncx.com.
In October of 2021, UPMC launched its internal locum float pool program with Syncx. This gave UPMC the chance to train its people on the new process and systems and get more comfortable. The initial benefits of this launch were realized quickly. Not only was the internal locums process now much more streamlined and automated, it also created an organization-wide view of which physicians were available, and when and where they were available.
Then, in January of 2022, they transitioned all external/agency locums to the Syncx MSP Program.
This second phase of the process was especially important for cost control because it allowed UPMC to standardize:
As the rollout progressed, the team at UPMC made use of the data they were collecting to give leaders better insight into how they could optimize their physician staffing.
"We don't make those decisions for them, but we can help make suggestions and help drive … sustainable financial practices." said Wade. "And I think before that people didn't realize how [many agency] locums they were using … you just fill the gap, and you move on with your life."
"
"It was all about good communication. It was about the foundation that [was built on] our relationships with Syncx … [they did] a good job of being on site, making sure that we spent time together"
– Byron Wade, President, Locum Clinicians, UPMC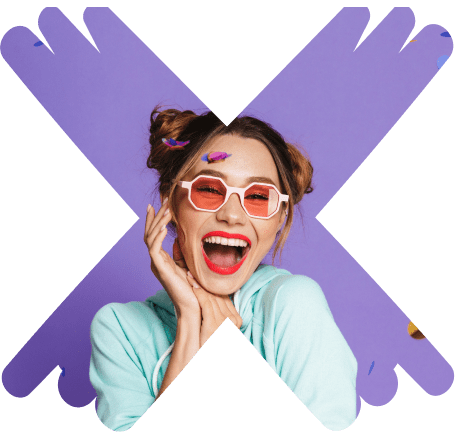 Launched UPMC Locums
Launched UPMC
credentialing & payroll
Launched agency locums
Successfully transitioned
80+% of UPMC spend to Syncx
Added 9 new locums'
agency partners
Transitioned program
fees to agencies
Built and launched UPMC Syncx perm ATS
On site and virtual trainings
for all UPMC recruitment
2023 continuous improvement
Float pool management and MSP: A modern classic.
The integration of UPMC's internal float pool and its external locum data was a powerful combination in its own right because it created opportunities to make better, more strategic decisions about how to fill shifts. For example, if UPMC was consistently deploying locums to a single location or cluster of locations, that was a good indicator that it was time to start recruiting for a permanent physician in that area.
But what about all those permanent physician hires?
Building on the successful rollout of the Syncx Float Pool and MSP, UPMC launched the Syncx Perm ATS offering to manage permanent physician hiring. This final piece of the puzzle enabled UPMC's recruiters to manage the candidate lifecycle for physicians.
Amplified capabilities, simplified processes, better visibility, and lower costs.
Partnering with Syncx on locums, float pool management, and the ATS for permanent hires enabled UPMC to:
Expanded capabilities and efficiency
Achieved more than $3M in cost savings
"
"I have a small team, so it really helped us … that we didn't have to manage our third-party locum agencies as much, and we could spend time recruiting [internally]"
– Byron Wade, President, Locum Clinicians, UPMC
A brighter future to the power of three.
What's next for an already fruitful partnership? For now, UPMC and Syncx are integrating these three programs with advanced technology to improve speed, efficiency, and reduce costs. UPMC's shared purpose with Syncx has been instrumental in positioning UPMC for success in a non-conventional way.
Not only did they gather the low(er) hanging fruit of integrating their internal float pool management process with their use of external/agency sourced locum tenens, they also reaped the benefits of deploying an ATS for permanent physician hires. The goal is for UPMC to see the entire spectrum of physician talent in one place, with a single source of truth and use that data to ensure that shifts aren't just getting filled, they're being optimally filled.
"
"[Working with] Syncx is like having a pool of experts in your back pocket"
– Byron Wade, President, Locum Clinicians, UPMC
Learn more about our exciting solutions.
SYNCX MANAGED SERVICE PROVIDER (MSP)
Get amplified access and integration in one customized tool.
SYNCX
FLOAT POOL
Embrace a new approach to internal provider engagement.
SYNCX PERM APPLICANT TRACKING SYSTEM (ATS)
Gain faster insight into candidate availability for permanent physician roles.